Posted by admin
On 21st August 2017
0 Comments
We would like to wish everyone a very Happy Easter!
The fountains are on in the Somerset House Courtyard and it definitely feels like spring has sprung.Best of luck to all the London Marathon participants that we've seen in the clinic over the past few weeks, remember to keep up the stretches. In this Newsletter we focus on the prevention of hip problems during Marathon and Triathlon training.We are all cheering on Matt, Victoria's other half who is currently taking part in the Marathon Des Sables. See below for an update.
MARATHON DES SABLES UPDATE
Our Practice Manager – Victoria's other half Matt is currently taking part in one of the toughest ultra marathons, the Marathon Des Sables in the Sahara in Morocco. This is a 250km race over 7 days. 4 stages down, 2 to go. Temperatures are soaring to the high 40's! Matt had some excellent treatment from one of our physios Andy Marshall for one of his many niggling injuries picked up in training for the event. Currently it looks like all the hard work is paying off. Everyone at CGP wishes him the best in this somewhat crazy (but ultimately very rewarding) endeavour!
STAFF
We are pleased to welcome Denah Griffiths to the team as another Sports Massage therapist to join Mark Edmonds. This enables us to offer more time for sports massage which is an invaluable tool for supporting our Marathon and Triathlon competitors (especially important at this time of year)!
Denah has also introduced seated chair massage which is proving popular. For this the patient remains fully clothed and it is effective in relieving tight neck, back and shoulder muscles.
To meet the rest of our established team please visit:
http://www.coventgardenphysio.com/who-are-we/
HIP STRENGTHENING AND STRETCHING
The importance of hip strengthening and stretching in the prevention of injury in Marathon and Triathlon competitors.
Here at Covent Garden Physio we firmly believe that "Prevention is better than a Cure."
When training for long distance events, the following are important to prevent injuries:
Correct balanced alignment
Strong core muscles
Good flexibility
Appropriate footwear
The hip joint is the link between the pelvis and the knee and is important in controlling rotation of the lower limb. Part of the "Gluts" muscle group namely Gluteus Medius is important in controlling  external rotation at the hip joint. If this muscle is weak, the lower limb tends towards internal rotation thereby placing  strain on the other structures in the leg.
The 'clam' is an exercise to strengthen the gluteus medius and help to prevent injury.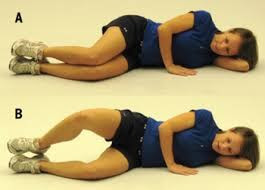 Functional strength training for the core muscles, hip and lower limb are essential in preventing injury.
Please call us for further advice or information
on 020 7497 8974 or email us on info@coventgardenphysio.com   
We continue to offer women's health, ante and post natal physio, pre and post op rehabilitation using manual therapy, exercise, acupuncture and functional training.
MARATHON AND TRIATHLON PACKAGES ALSO AVAILABLE
GIFT VOUCHERS AVAILABLE
For more information please call us on: 020 7497 8974
Email us on: info@coventgardenphysio.com